PEOPLE. Let's talk wall brackets.

Remember this amazing photo?
It's the Manhattan apartment of decorator/event planner/florist-to-the-stars
Antony Todd
, from the April 2006 issue of Domino.
There's a lot of rad-ness happening here, from
Benjamin Moore Galapagos Turquoise
to the earthy palette and sense of restraint, but let's not forget that wall bracket. It's a less-obvious alternative to a big mirror or piece of art. It also echoes the color scheme of the room, and, along with the screen, helps balance the scale of the oversized lamp.
Above, brackets draw the eye upward and repeat the room's symmetry. They're also helpful for displaying a collection, in case you have a penchant for blue and white porcelain.
More advice from the April 2006 Domino issue:
Decorators' trick: Wall brackets
Hanging one (or two or three...) of these is a time-honored professional secret for turning a flat wall into an intriguing 3-D space. Most often found in pairs -- flanking anything from a door to a window to a cabinet -- these descendants of corbels (the architectural brackets used to support beams and cornices) look equally compelling solo, whether tucked into a corner or stationed over the sofa. Top with a vase, a bust, a much-loved objet or even an entire collection of favorite figurines.
Design by Axel Vervoordt.
Jayne Wrighstman in her Florida library, c. 1960.



Design by Miles Redd.
This is all mighty breathtaking, but for those of us who can't handle the possibility of 23 vases crashing on our skulls, there are other options.
Framing a window is always classic, even if your tastes don't lean quite this traditional:
Credit: EKB Interiors
Or why not pop a bracket into a corner and throw your Chinese porcelain up there?
Gold edges makes 'em just a little fancy. Also available in green, blue and white.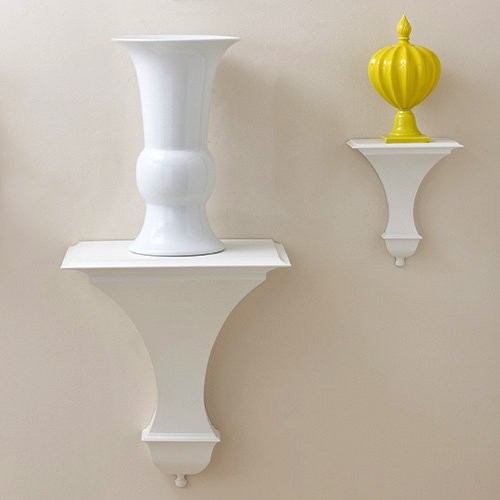 Tone down the baroque by painting these, or leave them as is.
Lastly, this corbel-mounted desk is over-the-top in a kinda awesome way. Restoration Hardware no longer sells it, but with a little sweat you could totally MacGyver it.